The benefits of upholstery cleaning service
When you hire upholstery cleaners, you will get quality cleaning services. The staff members are experienced and knowledgeable about the best methods and solutions to use on your upholstery. They make sure that all your upholstery is free from dirt and deep stains. Contact UCM Carpet Cleaning Pembroke Pines today and get a free estimate for all the services you want.
Upholstery cleaning is important. Cleaning your upholstery yourself will not be as effective as hiring cleaning services. By the way, it also concerns rug cleaning, tile and grout cleaning, mold detection, mold cleanup services, etc. If you have not cleaned your upholstery in a while, do not wait any longer as bacteria and grit will build up and cause damage. Call UCM Carpet Cleaning Pembroke Pines today; we will give you an onsite price estimate and have all your upholstery thoroughly cleaned.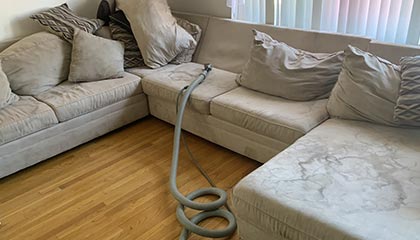 What Makes Our Upholstery Cleaning Different from Other Services?
1. We don't Use Harsh Chemicals, Soaps or Detergents
We offer our customers only green cleaning solutions that are eco-friendly, non-toxic and safe for health and the environment.
2. Our Cleaning Solutions Don't Leave Sticky Residue
Thanks to the high quality of our detergents, you can be sure that they will not leave sticky residue.
3. High-Quality Equipment
We care about our customers, and we keep our equipment in good shape and replace outdated machines in time.
4. We Use Less Water than Other Cleaners
The cleaning machines we use for steam, deep and bonnet upholstery cleaning, are the latest technologies in the cleaning industry. They took less water than other analogies in the market.
5. Short Drying time of Upholstery Fibers
Less water during the cleaning process - less time for drying. It's easy as pie.
6. Affordable Prices and Flexible Schedule
Customers can expect from us fair prices and good services qualities. We are locals and we are glad to please customers with our special offers and discounts. Feel free to contact us at 954-874-6365 to check if any are available right now.
Mattress Cleaning
One of the difficult items to clean in a home is the mattress. Mattresses collect a lot of dust, and they require regular cleaning. In this case, you should find a mattress cleaning service near me and try us for all your mattress cleaning needs.
Sofa Cleaning
When you invest in quality sofas, it is important to maintain them by making sure they are clean throughout. Sofas are one of the upholstery that gets dirty easily as most people spend most of their time on the sofas. The best way to clean upholstery is by hiring professional cleaners. With upholstery cleaning Pembroke Pines FL, you get cleaning for all types of sofas including leather cleaning.
So, do not hesitate, call us at 954-874-6365 right now and schedule an appointment.