Why You Need to Clean Your Mattress
You may have been strict and thorough when cleaning your house and other household items, but has the thought of regular deep mattress cleaning crossed your mind? Mattresses have all kinds of filth evidenced at the microscopic level, and if you haven't had yours cleaned in the past year, don't turn a blind eye anymore.
Whether it's watching, sleeping, or relaxing, an average American spends around 36 years in bed during their lifetime. Since the human body continuously sheds skin and bodily fluids like sweat, the busy and ignored mattress becomes a breeding site for dust mites, bacteria and fungi. Coupled with pet dander, pollen, stains, smells, and even bed bugs, you can be sure of nightmares, poor sleeping patterns, and long nights. It's even worse if you're allergic to pollutants and allergens. You may react rapidly to dust mite infestation, resulting in nasal congestion, itching, sneezing, and sinus pressure.
In a nutshell, here are six reasons why it's important to clean your mattress professionally:
Improves your indoor air quality
Discourages growth of pollutants and allergens
Boosts your sleep quality
Prolongs the lifetime of your quality mattress
Improves your family's general health and wellbeing
It saves you time and money spent buying a new mattress
Keep Your Mattress Clean with Our Professional Services
Have the recommended six months elapsed, or your mattress has extensive stains that can't wait for routine vacuuming and maintenance? UCM Carpet Cleaning Pembroke Pines will assess the mattress and perform deep or steam cleaning.
We understand that DIY mattress cleaning can be an overwhelming, costly and riskier task. With our certified, experienced and trained professionals, removing mattress stains has become easy. Thanks to the proven mattress cleaning approaches, eco-friendly products and variety of tools.
You'll realize that the cleaning doesn't affect your home routine. The mattress cleaner and other advanced equipment are effective, and treatments don't affect pets and human occupants. However, in your preparation and after the deep mattress cleaning service, we ask you to do the following:
Remove all the bedding from your bed
Have a space delegated for cleaning if your bedroom is small
Leave your mattress to dry completely after expert cleaning
Regularly seek professional mattress cleaning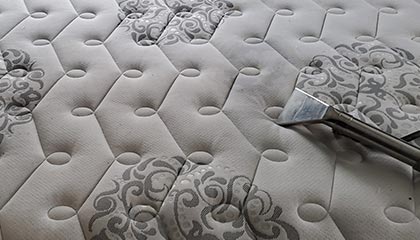 Professional Ways of Cleaning Your Mattresses
While some manufactures provide instructions on how to clean a mattress, seeking expert assistance is the most reliable and viable option. It's because professionals understand the best stain removal and cleaning ways based on the type and quantity of stains.
Toxic chemicals may only cause more harm to your mattress, and that's not what you want. With effective and safe products, professionals avoid lots of moisture when cleaning, keeping away toxins while saving time.
Here are the best mattress cleaning methods our professionals use:
Vacuuming
It's the first step that uses the best clean upholstery attachment to remove as much debris as possible.
Deodorizing
Facilitated with Eco-friendly treatments to neutralize any odors that may have developed from sweat, skin cells, dust mite excrements and other stains.
Stain Removal
Stain removal through extensive cleaning and careful mattress agitation to remove stains and body fluids, thus depriving dust mites, fungi and bacteria of something to eat.
Dry Cleaning
Prioritizes non-chemical products to deep clean dirt, bacteria and mold, while protecting the mattress fabric.
Professional Steam Cleaning
Uses hot water extraction machine to remove tough stains without exposing the mattress to mildew and mold growth. But if you suspect that these fungi are already indoors, it's better to contact us for mold testing and sampling. When you are sure that mold has infested your living or working space, getting rid of mold is a must!
Mattress Sanitizing Service
It's meant to kill and avoid the continued growth of microbes on the surface.
You Can Depend On Us for Mattress Cleaning Services
Ready for the best and timely mattress cleaning Pembroke Pines, FL? At UCM Carpet Cleaning Pembroke Pines, we're certified and ready to get the job done regardless of the mattress type or nature of mattress stains. Our goal is to give your mattress a breath of fresh and healthy air for that deep and restful sleep you've always wanted.
Call us at 954-874-6365 to schedule a mattress cleaning service with us today, and we'll be happy to offer free, no-obligation estimates and professional consultation.