6 Reasons to Use Professional Rug Cleaning Services
1. Effective, quality results
One thing you ought to accept is that that rug cleaning from home is not a real cleaning solution as it only provides surface cleaning, nothing more. Professional rug cleaning in Pembroke Pines FL, on the other hand, subjects your rug to an effective washing and drying technique, to guarantee quality results. This way, you don't risk getting mold or mildew on your rug or even damaging your hardwood floor with harsh cleaning methods.
2. Increased ROI
It doesn't matter whether your rug is a souvenir from an exotic vacation or a purchase from your favorite local interior décor store, rugs are almost always expensive. As such, you don't want to let grime build up over the years which might result in permanent damage to the fibers that have been used to create your precious rug. Besides, inappropriate cleaning methods and detergents can discolor your rug, which is why you need to leave the job to professional rug cleaners. That's the only way to get a good ROI on your rug
3. Greater appeal
Do you really have to keep on rearranging your furniture to hide spots or even reach a decision to get rid of a perfectly good rug just because the stains are tough to deal with? Consider hiring experts for your rug cleaning in Pembroke Pines FL, and you will start wishing for more visitors since you're sure that your rugs appeal won't go unnoticed.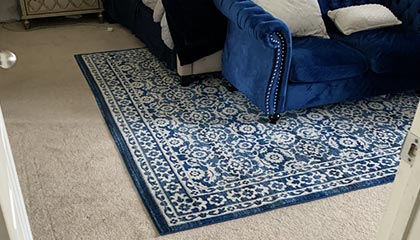 4. Environmentally-friendly solution
Another significant benefit of hiring the professional for rug cleaning in Pembroke Pines is that they have an array of cleaning techniques, materials, and even cleaners that won't damage the environment. It also concerns tile & grout cleaning, etc. We all want a good environment, don't we?
5. Better air quality
There's no better thing than living in a space with good air quality as that means that you stay healthy, in addition to enjoying a good quality of life. After proper rug cleaning, you can get some comfort on your couch and watch your favorite TV program or even read a book knowing that the quality of the air you are taking in is the best you can have.
By the way, it's always a good decision to test your house for mold from time to time. If professionals confirm its presence in your residence, you can schedule mold abatement services with us.
6. No stress
Hiring professional rug cleaners in Pembroke Pines, FL means that you can go about your daily activities without giving a care in the world what those guys are doing. You don't need to go off your schedule and stress yourself all day long trying to clean a rug, maybe even several times before it respects your effort. Just search for "rug cleaning near me" and hire UCM Carpet Cleaning Pembroke Pines to do the "dirty" job for you, and stay stress-free, plus you get to save time - a lot of time.
Contact Us Now!
The time is now, so, try UCM Carpet Cleaning Pembroke Pines and enjoy the brilliant oriental rug cleaning & area rug cleaning result.
Call us at 954-874-6365 right now for the attractive special offer!