Signs of Mold
Mold is a fungus and, if left unchecked, can cover a large area in little time. They destroy surfaces they infest, including walls, windows, furniture, other wood fittings, porous surfaces, etc. Asides from the ugly look and damage they can cause to properties, they can also be harmful to humans and pets by causing respiratory illnesses.
Their color, nature, and patterns can easily make them detectable. It usually comes in the form of woolly texture covering surfaces, and it comes with color. They have different colors depending on the type that infests your properties. The standard type is the black mold, but there are other colors apart from black like green, blue, white, etc.
Mold usually causes surfaces it infests to look distasteful. They can trigger allergies and respiratory issues; if you feel such reactions, it might be a sign that these harmful microorganisms are infesting your home. They grow in moist areas that are not well ventilated, leading to high humidity. If these conditions are in place, it might allow these organisms to multiply.
Our Mold Remediation Team in Pembroke Pines
We are a licensed mold remediation provider, and we keep our reputable status through the diligent work of all our mold remediation specialists. We make use of certified mold remediation chemicals and equipment in carrying out our removal and remediation services.
Our team members are polite and deliver their services professionally. Our cleaning technicians are equally well trained and licensed to provide excellent remediation services. You can get a free estimate for your project before you schedule an appointment with us. Call 954-874-6365.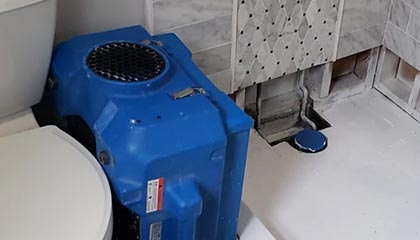 Our Mold Services in Pembroke Pines, FL
We have large areas where our service is applicable. We provide this wide range of services to ensure the complete removal of mold from your property. You can be assured of quality service by our well-experienced and technical team. Our long list of services is applicable in meeting the different needs of our customers.
Our Mold Services Include:
Mold Inspection
Mold Mitigation
Mold Removal
Mold Remediation
Sanitizing
Mold Abatement
Cleanup and Demolition
Our services offer a comprehensive approach to getting rid of mold from any property. We inspect such property and test it to confirm the presence of the mold. Once it is established, the best form of cleaning is decided, which involves the process of cleaning, remediation, and restoration.
We are pleased to announce our partnership with FDP Mold Remediation to help us handle large mold projects. FDP Mold Remediation specializes in handling mold abatement projects with ease. We are always seeking to improve our services for our customers, and we trust this will improve our availability for all.
Why Choose Us for Mold Remediation?
Suppose you notice any form of infestation in your home. In that case, you will require the services of a professional mold cleaner to assist you in getting rid of these organisms and restoring your surfaces to their original state. Our expertise in this industry is drawn from our years of active service and experience gained from working with many customers.
You can access our affordable rates and get a chance to get rid of mold from your home finally. If you stay in Pembroke Pines, Florida, or nearby areas, and experience infestation in your home, you should reach out to UCM Carpet Cleaning Pembroke Pines.
Call Us Today and Get Rid of Mold!
Call us today in Pembroke Pines, Florida, for professional mold cleaning and remediation services - 954-874-6365.