Mold Testing Cost in Pembroke Pines
| | |
| --- | --- |
| Basic Mold Testing Package | $395 |
| Price for Additional Sample for Mold Testing (if needed) | $95 |
Why Professional Mold Testing is a Must
One of the reasons why a professional mold testing service is necessary is because mold spores are very sneaky and can be found in places that you wouldn't easily find if you don't have the required skills needed to undertake the task. When you call a professional mold detection business like ours, we come with our team and undertake a mold testing process to identify the presence of mold in your home or commercial premises. The result of your mold sample from a lab would determine how we can provide you with solutions. If mold removal is required, we have a team that is trained in that aspect to help get the mold off your property.
How Do We Undertake Mold Testing?
Mold testing is a serious job and requires adequate skills and equipment to enable the proper analysis of the property. That is why we at UCM Carpet Cleaning Pembroke Pines undertake every mold testing job like it's our last. We ensure that we utilize the IAQ mold sampling pump and cassette to extract mold samples from the air and surface of your home or property. The samples that are gathered by the mold specialist are then taken to an independent laboratory where they would be tested to determine the specifics of the sample and the type of mold that is present.
Once we are sure of the type of mold or mold situation, we provide our clients with a mold remediation protocol to deal with the mold.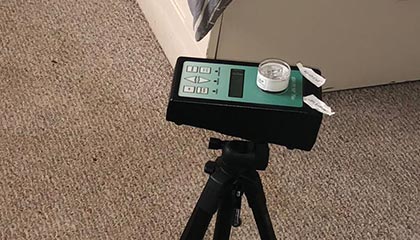 How Do Our Technicians Check Behind the Wall for Mold?
Finding molds can be a tough job, as they can be found in any building area. That is why our technicians utilize the test cuts on walls to ascertain if there are molds hiding in the crevices properly. Any other way to know if mold is present in a wall is by using the tape swab test. Utilizing any of these tests, we can assuredly test for molds in walls and crevices to further determine if your home would require professional mold remediation.
Professional Mold Testing Nearby Your Area
Contact us at 954-874-6365 and schedule onsite inspection, and our tech will attend to you and provide you with the cost of mold testing and help you find a solution how to get rid of mold.
For the past 17 years, we have serviced the Pembroke Pines area and its surrounding with utmost perfection, as our team readily undertakes your cleaning needs. We are pleased to note that we have recently partnered up with O2 Mold Testing to help us expand our mold testing capacity while maintaining our high level of service. At UCM Carpet Cleaning Pembroke Pines, we offer not only mold testing your home and offices with thoroughness and efficiency, but a wide variety of cleaning services which include carpet cleaning, rug cleaning and more. Call to get a free estimate or schedule an appointment with us.